Pottery Workshop: 5-Month Course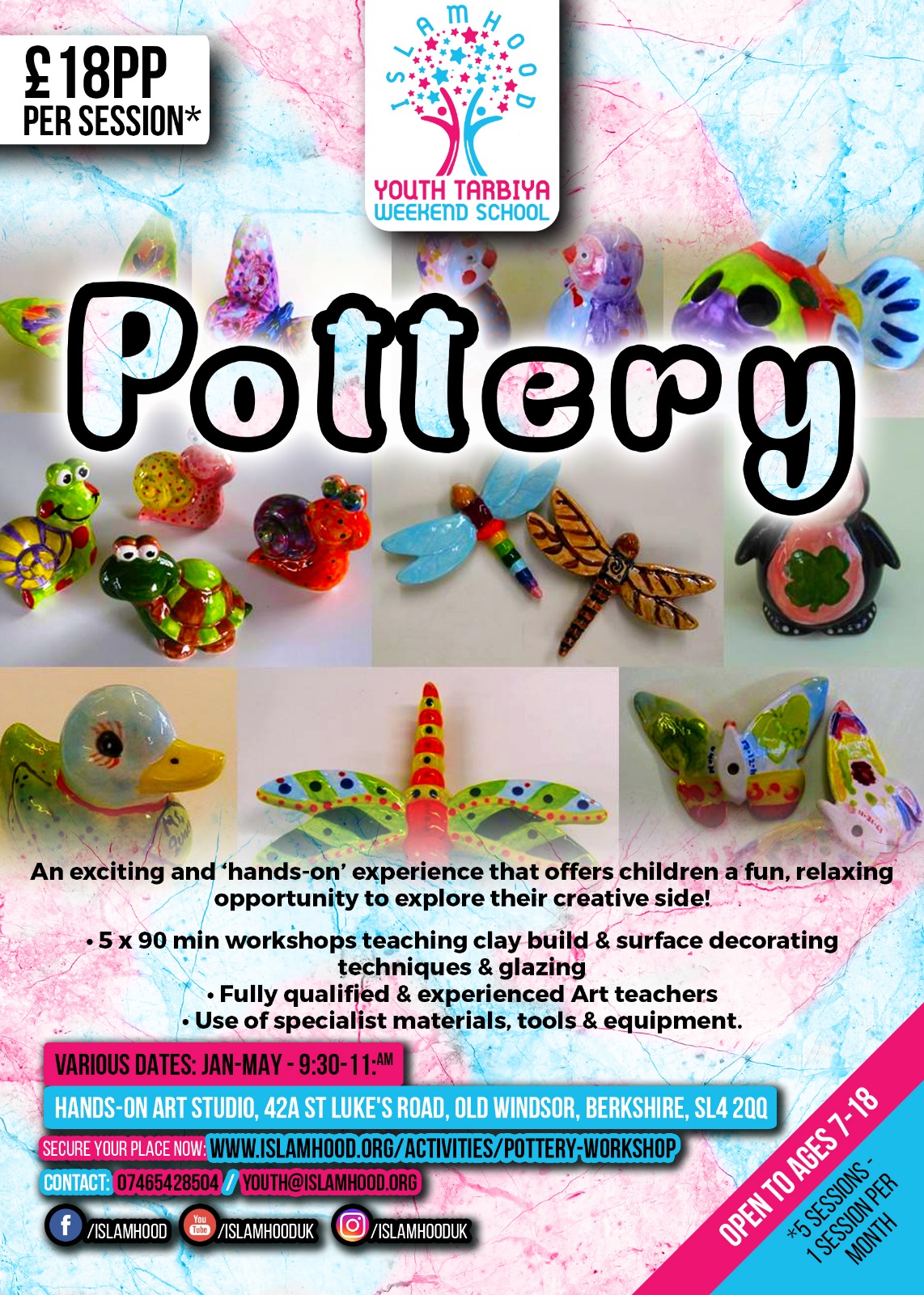 Pottery Workshop: 5-Month Course
An exciting and 'hands-on' experience that offers children a fun, relaxing opportunity to explore their creative side!
A unique visual and sensory activity that's truly rewarding and offers a fantastic sense of achievement - whether they're a natural artist or not!
WHAT'S INCLUDED?
5 x 90 min workshops teaching clay build & surface decorating techniques & glazing

Fully qualified & experienced Art teachers

Use of specialist materials, tools & equipment
Open to all children aged 7-18
5 sessions / 1 session per month
DATES:
Group A - Jan 12th, Feb 9th, Mar 16th, Apr 6th & May 11th 2019
Group B - Jan 19th, Feb 16th, Mar 23th, Apr 13th & May 18th 2019
Group C - Jan 26th, Feb 23rd, Mar 30th, Apr 27th & May 25th 2019
TIME: 9:30-11am
LOCATION: Hands-on Art Studio, 42a St Luke's Road, Old Windsor, Berkshire, SL4 2QQ
COST: Weekend School pupils: £85 for 5 sessions (£17 per session) / Regular price: £90 (£18 per session)
For parents/guardians with financial difficulties, we may be able to arrange a payment plan for this workshop. Please contact us for further details.
EXTRA CURRICULAR ENRICHMENT FOR YOUTH TARBIYA WEEKEND SCHOOL
As part of our ethos of turning 'informative learning into transformative learning', emphasis is placed on moulding and nurturing our youth into well-rounded individuals in various fields - not just in studies. As such, specialist enrichment opportunities will be arranged throughout the School Year to allow pupils to explore their interests - whether that is in art, horse-back riding, archery, talent shows, cookery, calligraphy amongst others. This will offer the unique opportunity for pupils who would otherwise not have the chance to explore such activities and perhaps spark a lifelong interest in non-traditional passions.